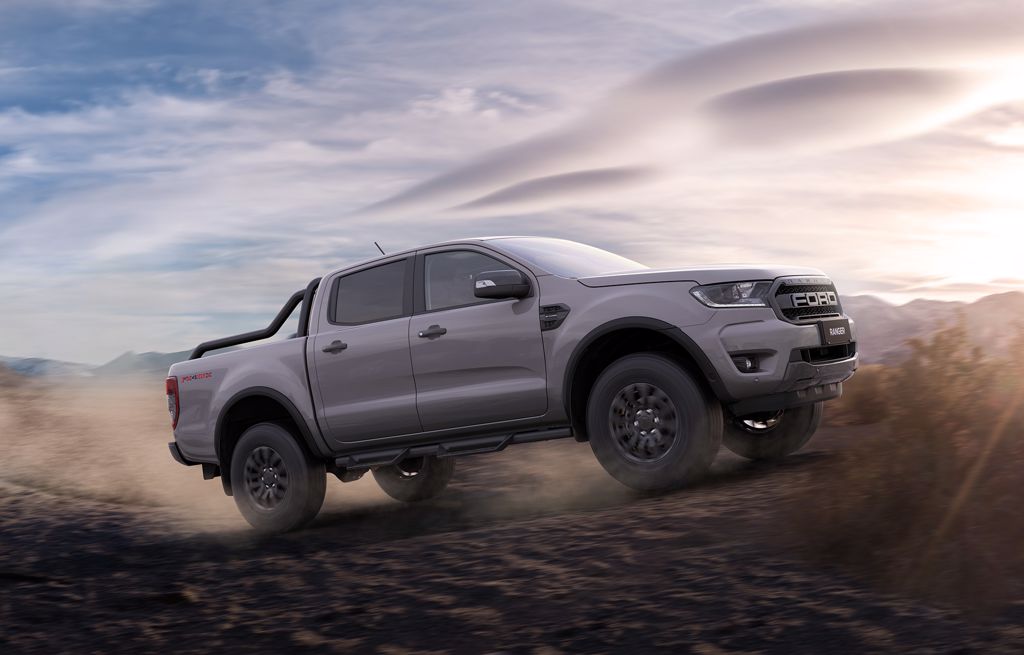 Introducing the Ford Ranger FX4 MAX. Available Now.
Work Hard, Play Rough
Introducing the Ford Ranger FX4 MAX. Satisfy your need for adventure with exciting 4X4 capabilities providing a thrilling off-road experience. This off-road pick up truck provides you with the confidence to take on undiscovered parts of the world. But when you go, don't forget to load up, Ranger FX4 MAX features 3.5 tonne towing and 981kg payload capacity so you can bring all of your toys.
FX4 MAX Features



Advanced FOXTM Shocks

Fitted with 2" monotube FOX™ shocks, the off-road tuned front and rear suspension comes with increased travel and overall ride height allowing you to take Ranger FX4 MAX anywhere. This suspension has been crafted to soak up punishing impacts and smooth out bumps and ruts with ease while still providing comfortable on-road driving characteristics.



BFGoodrich® All-Terrain Tyres with 17" Bolder Grey Alloy Wheels

Ranger FX4 MAX provides you with superior handling characteristics off the beaten path, with the BFGoodrich® all-terrain tyres boasting a precise tread pattern and tougher side walls than standard factory tyres. Combine this with the newly designed 17" alloy wheels, featuring a +42mm offset for a 26mm increase in wheel track width to provide greater stability in unforgiving terrain.



Off-Road Side Steps

Ranger FX4 MAX's off-road side steps are built to carry you wherever adventure calls and feature a non-slip finish, providing off-road styling and functionality without sacrificing FX4 MAX's ground clearance.



F-O-R-D Grille and Sports Bar

The F-O-R-D Grille and long-legged tubular sports bar create an athletic profile that demands a second look. The sports bar even incorporates a high-level lamp so you can access the load box whenever and wherever Ranger FX4 MAX takes you.



Upfitter Auxiliary Switch Pack

Want to be even more adventurous? Ranger FX4 MAX's upgraded 250A alternator is matched to an upfitter auxiliary switch pack allowing you to seamlessly control your aftermarket accessories such as light bars, winches and air compressors from the comfort of the driver's seat.



FX4 MAX Embroidered Seats

Going off grid has never been this comfortable with Ranger FX4 MAX's unique embroidered leather accented seats with Miko suede inserts, contrast stitching and carbon-look accents.
Contact Us
Where Will Ranger FX4 MAX Take You?
Are you ready to take the roads less travelled and go to the places you've never been before?
Register your interest below.
Contact Us Request Email or Call back
Disclaimer
Pre-production model. CGI Images shown. Minor specifications subject to change.